The filter press is a versatile piece of equipment that is suitable for almost any type of sludge. It can be used for dewatering, thickening, and compaction of sludge, as well as for the separation of solids and liquids. It is a simple and efficient tool that can help to reduce the volume of sludge, as well as to increase its dryness. It is also a cost-effective solution that can be used in a variety of applications. The filter press is a reliable and efficient tool that is suitable for almost all types of sludge.
In order to ensure satisfactory cake release due to minimal adhesion to filter cloth, inorganic conditioning of hydrophilic organic sludge is often recommended. This conditioning method involves the addition of inorganic salts, such as sodium chloride, to the sludge. This helps to reduce the surface tension of the sludge, which in turn reduces the adhesion to filter cloth. The inorganic conditioning also helps to reduce the filter cake moisture content, allowing for more efficient dewatering. In addition, the conditioning also helps to reduce the potential for re-suspension of the sludge during filtration.
Hydrophobic Inorganic Sludge Filter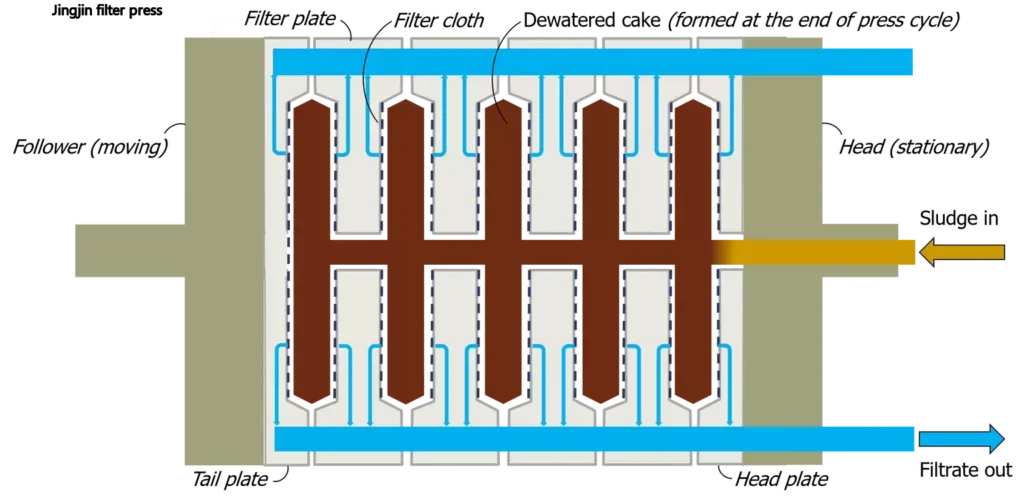 Hydrophilic inorganic sludge is a type of waste that is comprised of small particles that are difficult to separate from the water. The filer press is an ideal method for separating this type of sludge from the water, and generally requires the addition of lime only. This makes the filer press much more efficient than other methods, as it requires fewer steps and materials. The use of lime also helps to reduce the amount of sludge in the water, making it much cleaner and safer to use.
Hydrophobic inorganic sludge is ideal for the filter press because of its very dense nature. This type of sludge does not require any preliminary conditioning before it is dewatered, making it an efficient and cost-effective solution. It is also able to filter out any impurities, leaving only the desired material behind. This makes it an excellent choice for many industrial and commercial applications.
The filter press is an effective way to treat sludge containing light oils, however the presence of grease can sometimes cause the filter to malfunction. To ensure optimal performance, clothes must be degreased at regular intervals. Although it may seem like an extra step, it is essential to maintain the filter press in good working order. Oily sludge can be a difficult and messy problem to deal with, but with the right approach and maintenance, the filter press can be a reliable and efficient way to treat it.
Brief Of JINGJIN Enterprise
Jingjin Environmental Protection Inc. was founded in 1998 with a mission to provide comprehensive environmental protection services. It is a leading service provider in filter outfit production, filter technology overall plan solution and environment protection project contraction and operation. The company is also a vice-president unit of China Environmental Protection industry Association and the primary drafter of national standards for filter press and filter plates. Its filter press has the largest production capacity and sales volume worldwide for twelve consecutive years, and its products are sold to 123 countries and regions. In addition, Jingjin trademark has been recognized as a 'Famous Chinese Trademark' by the State Administration for industry and Commerce of China, and is also protected by Madrid International Trademark Rgistration. The company's chairman, Water Jiang, has been awarded National Labor Model and National Model Worker.
Moreover, the filter cloth has good air permeability, which can reduce energy consumption. Jingjin's filter cloth is widely used in the fields of food, chemical, pharmaceutical, metallurgy, and other industries, providing cost-effective products and professional quality service.
The introduction of monofilament filter cloth has revolutionized the filtration industry. This new technology has solved a problem that has been plaguing the industry for years, the inability to make filter cakes fall off automatically. This revolutionary material makes it possible for filter cakes to fall off easily and quickly, improving the efficiency and accuracy of the filtration process. Monofilament filter cloth is a game-changer in the industry and has allowed for unprecedented levels of accuracy and speed in the filtration process.
JINGJIN Is On A Mission To Realize Its China Dream
Jingjin is on a mission to realize its China dream of becoming the most influential complex service provider in environmental protection area worldwide. With its mission of "Protecting Environment and Beautifying China" and its green strategy of "Turning sewage into pure water and sludge into resource", Jingjin is providing a profound answer to the challenge of eco-environment protection and economic development. Through its efforts, Jingjin is committed to leaving clean water and blue sky to our descendants and making the world a better place.